How
"Prepare-and-Serve"
Works
How "Prepare-and-Serve" Works
Contact Us
Call us anytime at 262.691.1780 or 262.391.1620. We will provide you with a correctly sized Maple Creek Farm home raised roasting pig and roaster.
No Experience Required!
Maple Creek Farm can also provide the following:
Pig roaster rental. Chicken roasters also available (limited quantity)
Chicken, brats, kraut, etc. to stuff in your pig.
Advice on where and how many side dishes to purchase for your party.
Tents, table and chair rental.
We deliver directly to your location!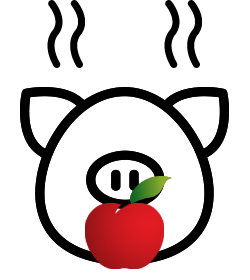 Prepare
We make this as easy as possible. We will deliver, mount, season then train you on the complete roasting process. The only prerequisite is that you can read a temperature gauge!
It's as easy as 1,2,3!
Prefer to let someone else handle the preparing? We can recommend an area roast-and-serve caterer.
Serve
Serve your guests, experience the Maple Creek Farm difference, and...
"Party with a Pig!"